Clair started Spare Tyre Theatre in 1979 inspired by Susie Orbach's book Fat is a Feminist Issue. She, Katina Noble and Harriet Powell wrote and performed songs and shows about being fed up and female for ten years based on their own lives and stories.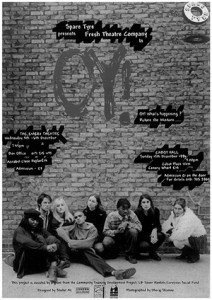 After several years the company was asked to work with groups of young people using the same techniques –listening to stories, creating theatre and music with them, then directing their performances.
Gradually the company stopped performing and began to work with a wide variety of community groups using the same technique. Participants would tell stories, then turned into songs and musical plays and performed by the storytellers.
Coming to Camden: one of many 4 year intergenerational project about emigration to the London borough of Camden in the 40s, 50s 60s and 70s. This particular show set in 1977 looked at punk, the Equal Pay Act and the first MacDonalds in Camden.
Collaborations
Other People's Shoes (with Theatre Royal Stratford East) Danny Braverman's school show aimed at age 14-16 looked at multiple oppressions: being gay, disabled or a refugee.
Oxfamtastic (with Leap Theatre Workshop) Three years of shows that toured schools on the subject of third world issues.
Oxfam: The first 50 Years – a musical theatrical piece celebrating Oxfam's big anniversary.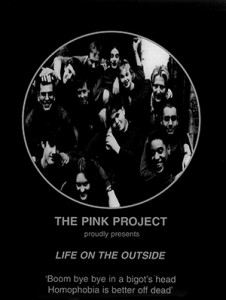 The Pink Project (with Lynn Sutcliffe) Are you 16-25…..LGBT…..or do you think you might be? A 3-year drama and music projects with young LGBT people, one of the first as Section 28 was still in force.
Quotes about the work
As far as I am aware Clair is the only person in the UK arts scene to have created a "political" theatre group of elders. Her work goes way beyond the boundaries of "just" making a show – it embraces subjects that older people are exercised, frustrated and challenged by – using the show to empower the elders to make positive change as well as enjoying the activity itself.
Jo Hemmant, Director of Operations, Hackney Empire
Clair Chapwell is a writer of great significance for an unspoken generation of people capturing the emotional complexity of aging and being old. Her scripts are as defiant as they celebratory and she never shirks from the painful reality of what it is to be human.
Jenny Sealey, Artistic Director, Graeae Theatre
Why didn't I know about this 10 years ago? I'm a different person! I'm so much more confident. I always thought of myself as a loner. But now it feels like I'm in a family.
Stan Doran (82) Member of Bolder Voices
My training as a workshop leader with Clair is one of the most enjoyable things I have ever done. I was terrified. I felt I would never be able to lead a workshop, but as the training progressed my fear slowly subsided. I started my first workshop with a partner, and with every workshop we planned and led I became more relaxed.  I am definitely a change and more confident person.
Joyce Johnson (75) Fit as a Fiddle